I've removed the Christmas customizations I had made to WordPress' Twenty Eleven theme and replaced them with a look based on a photo I took at Roche Abbey in England. Here's what the Christmas theme looked like: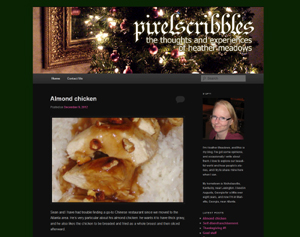 I actually forgot to screencap the design before I changed it, so I had to guess on the background color and link color, but this is essentially what it looked like. I created the header in Photoshop using this photo of our Christmas decorations. This look went live on December 9, 2012.
Here's the new design: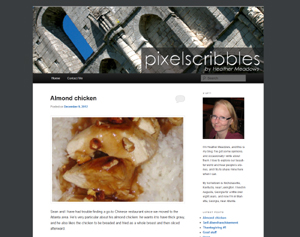 The background color is #3a3d3f, the link color is #1c67b2, and the color scheme is Light. I made the header in Photoshop featuring this photo from my birthday in 2009, which was spent with my friends Brooke and David and the Kenmore family at Roche Abbey in South Yorkshire, England. It was a wonderful day of picnicking and exploring and kicking a soccer ball around. :)
Since I'm not sure if I ever actually archived the other looks my blog has had this year, here they are. First up is my fall theme, which went up on October 16, 2012: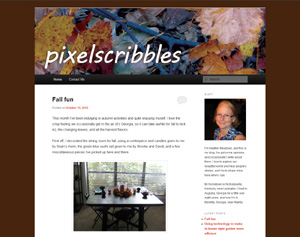 The background color is #47240E, the link color is something like #CA3026, and I made the header in Photoshop based on this photo I took on a walk to Kroger in North Augusta in November of 2008. My profile picture is a crop of this photo of me from AJ's birthday.
Before that, this is what my blog looked like, starting July 15, 2012:
Unfortunately I don't have a full page version of this one, so you can't see all my sidebar stuff. The tiled background and large graphic element in the header came from a site that I really want to credit, but I can't find the link now. Just know that I did not create them. My profile pic is a crop of this photo from the 4th of July.
Before this design, I had left Twenty Eleven pretty much alone other than swapping out the header. Here's a picture I used for quite some time; it's the view from the front yard of the family farm.

The Internet Archive hasn't grabbed a snapshot of my blog since July of 2011; I don't know if I have messed up a setting or if something else is going on, but I'll try to fix that, because I really like being able to step back into my design history. I'll also keep trying to archive my designs myself.