The Atlanta Braves have announced a move to the Cumberland area just north of I-285 and west of I-75. They'll have Cobb Galleria, Cumberland Mall, and me as their new neighbors.
Yes, that's right; I live practically up the road from the Braves' proposed stadium site. Not only that, but the site is right smack in the middle of my commute.
The Braves released a sketch of their proposed development. Here I've overlaid that sketch onto a map of the area.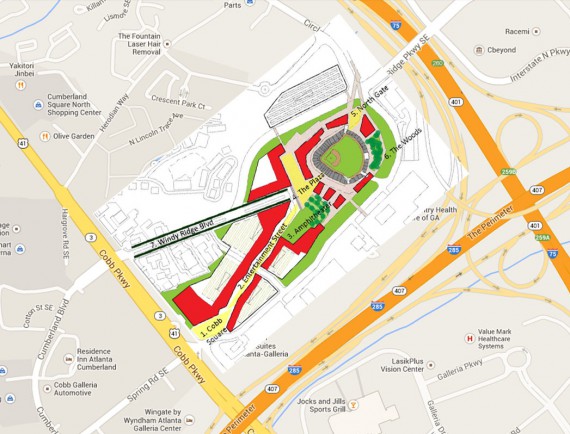 It looks like from the direction of Cobb Parkway, they will extend Windy Ridge straight into the stadium to serve as the main entrance, and they will have a secondary entrance at Windy Ridge and Circle 75 (the top right of the sketch).
Here's the area in a slightly larger context: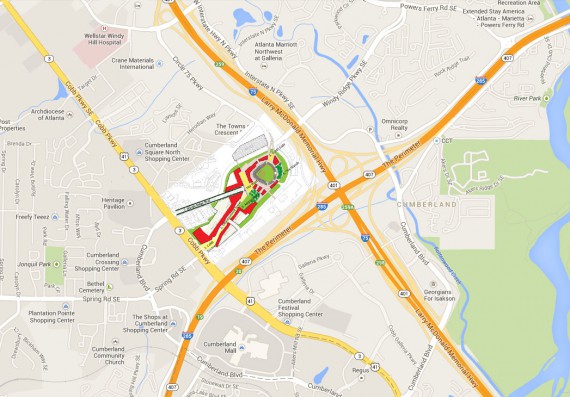 And a little further out: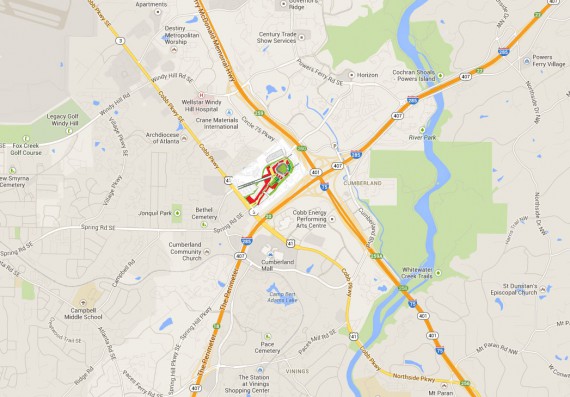 Here's a Google Map I made showing the proposed area and some of its neighbors. I'm hoping to add potential traffic routes to it when I have time.
Looking at all this, it appears to me that the area of Windy Ridge Parkway between the proposed extension at what seems to be the main gate and the North Gate at Circle 75 may very well be shut down for stadium-exclusive use, and regular traffic will have to take Circle 75 to get around. I'm not sure if this would be a permanent traffic flow change or only happen on game days, and of course this is just speculation.
Interesting reading: