I previously wrote about my new obsession with tablet-laptop hybrids, and my specific fascination with the Acer Iconia W5. Now, thanks to Sean and Ars Technica, I am aware of the Ativ Smart PC 700T1C from Samsung.
Lookit.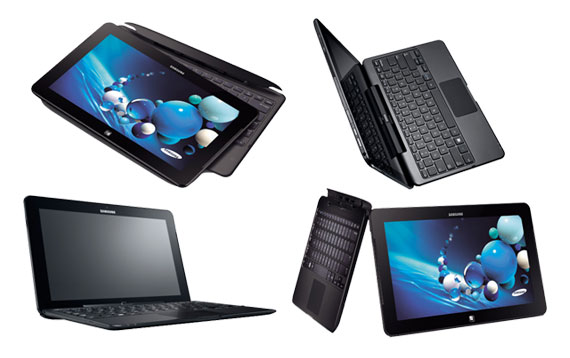 It's sleeker than the W5. It also supports 64-bit Windows and has an Ivy Bridge processor. The resolution is better–1920×1080 vs. the W5's bizarre 1366×768. The max 4GB of RAM is a concern, but this problem seems to plague all tablets.
I like that it works with a stylus ("pen"). The reviewer had concerns about the size, but I guarantee my hands are smaller than his. You can't flip the screen around on the dock, but as I mentioned in my post on the W5, that feature was more of a bonus than a must-have.
It bothers me a little that it appears you have to buy the pen and the keyboard dock separately, meaning the list price is misleading. But I don't think they add too much to the price–the stylus certainly doesn't.
Ultimately I'd love to see one of these in person and get a feel for how it would be to own one.