The other day at work, I was standing at my desk when a coworker walked by.
"Your hair is getting so long and pretty, Heather!" she said.
"Thank you!"
Today, also at work, I was looking in the mirror in the bathroom and running my fingers through my hair, and another coworker made a comment.
"Wow, your hair is really getting long! Are you just going to let it grow?"
"Yeah," I said. "It's gotten to here before–" and I touched the small of my back "–but not really any further. We'll see."
Right now my hair is about half a foot above the small of my back. It certainly has grown quite a bit since I whacked it all off in June of 2012. Here's how long it was before the haircut:
I then had it cut short and dyed:
The dye didn't really last that long. It was already fading two days later. By August my hair was basically back to its regular color.
August 2012 was when I started as a contractor at my current place of employment, so my coworkers met me with short hair. (They also met me post-weight loss!) Here's how I looked then:
I kept my hair short, for a few months at least, before I let it grow again. Here I am in December of 2012:
By August of 2013 my hair had made it past my shoulders:
In January of 2014, my hair had reached what I guess you'd call "mid-length":
And then my hair suddenly looks super long in August 2014:
I'm way behind on uploading photos–backlogged to November, and that's not counting the Hawaii photos from March and the St. Augustine photos from August!–but here is an adorable picture of me and Sean that Mom took at Christmas. This gives you an idea of the length of my hair now: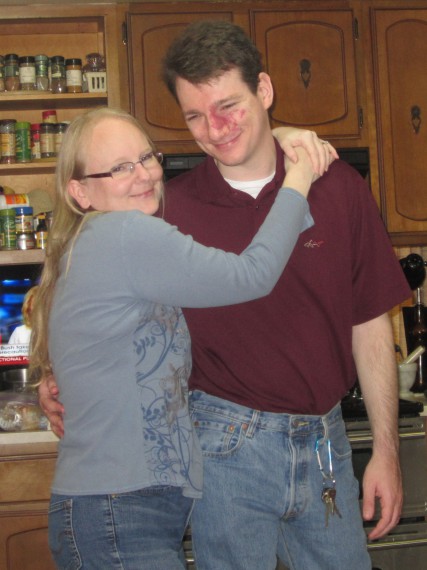 So yeah, my hair is pretty long, eh? It'll be interesting to see how long it gets!