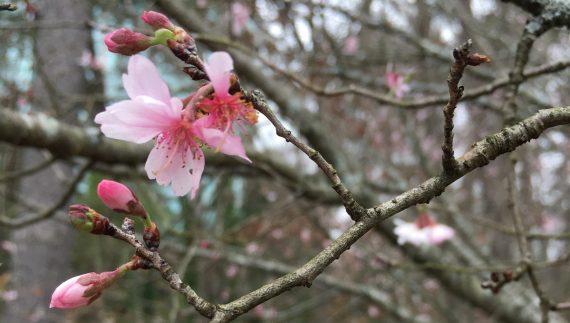 I'm not sure I'm more likely to get COVID-19 than anyone else—I'm not immunocompromised or over 65—but I really, really don't want to get it, just like I really don't want to get regular flu. I've had heart failure twice (2007 and 2016). I'm not interested in putting my heart through stress like that.
The American Heart Association currently says:
The virus could affect heart disease patients in several ways, said Orly Vardeny, associate professor of medicine at the Minneapolis VA Health Care System and University of Minnesota.

The virus's main target is the lungs. But that could affect the heart, especially a diseased heart, which has to work harder to get oxygenated blood throughout the body, said Vardeny, an adviser on the ACC bulletin. "In general, you can think of it as something that is taxing the system as a whole."

That could exacerbate problems for someone with heart failure, where the heart is already having problems pumping efficiently.

What Heart Patients Should Know About Coronavirus, March 24, 2020; retrieved March 28
So yeah…I'm taking this very seriously. Not going anywhere is super difficult for me, but it's better than getting coronavirus (or helping spread it to others). I have been doing my best to strictly "shelter in place" since March 14, not leaving the apartment at all if I can help it.
The second time I had heart failure, I did daily update posts. While I'm not actually sick right now, being stuck in the apartment all the time is wearing on me, so I think daily updates might be helpful. I'll have something to do (during the times when I'm not working or doing chores) and I'll end up with a record of the experience. So here we go! I'm starting a bit late; following is a recap of what's gone on so far, from March 13 until now.
Friday, March 13 (Day 0)
This is the day when things started to feel serious for me, and when I started to take steps to protect myself, but I was still out of the apartment a lot, so it doesn't count as Day 1.
I started the day as usual, leaving for work around 7:30. Sean has been packing my breakfast and lunch for me for a while now,* but I ended up stopping at Smoothie King that morning to get a green tea tango. I was already thinking it would be awhile before I got to have one again. (Usually they will put it in my insulated cup for me, but they said they couldn't do it that day due to coronavirus, which I understood and appreciated.) So I had the smoothie instead of the cottage cheese and boiled egg Sean had sent.
I went to work as usual, but I had already started to worry about the fact that I work at a very large corporate headquarters with thousands of other people. I decided mid-morning that I should start working from home. My company had just updated their flex time policy to allow for this due to the COVID-19 situation, so I got permission from my boss and packed up a few things and left the office.
On the way home, I stopped at the grocery store to grab some essentials. The place was packed. Fortunately, people stayed respectful of each other. No one was coughing or sneezing or even talking, really. The meat department was picked bare, as were the paper goods aisle and the frozen vegetables section. Sean and I have developed a basic menu of simple meals that we eat every week,* so I got as much of the supplies for those meals as I could find, and then I ended up getting frozen meals and boxed au gratin potatoes and bagged noodles to fill in the gaps. I also got myself a Mounds bar because…emotional eating.
I left the office before lunch, but I ate what Sean had packed me while I was working from home: a tuna fish sandwich, Cheetos, and grapes.
After work, Sean and I went to Sushi Huku, but I felt a little weird about it, and I overheard one of the servers saying the restaurant would probably end up closing. Fortunately nobody there was coughing or anything, and the only person we ended up in close proximity to was our server.
*These meal plan changes—Sean packing my breakfast and lunch, us having a basic menu that's easy to make and shop for—are a huge deal. They have helped me so much, they deserve their own post. Boy, there's so much I haven't blogged about…
Saturday, March 14 (Day 1)
I stayed home all day. I don't actually remember what I did with my time, but it probably involved goofing off online and watching TV. Sean and I have been plowing through NCIS on Netflix; we just got to season 10.
Around the middle of the day, work sent a message to everyone saying that anyone able to work remotely was highly encouraged to do so, which was extremely validating. (Looking at the situation now, two weeks later, it was definitely the right choice. I'm glad I was able to act so quickly.)
That night for dinner I made butterfly shrimp (from frozen) and stir fried vegetables with rice.
Sunday, March 15 (Day 2)
On this day, I very seriously considered going to Gibbs Gardens. I was thinking that it would be my last chance for a long time. Plus, the tulips and forsythia were in bloom, and I love them. I've only been once so far this year, on opening weekend (Sean went with me!), and though I got to see the daffodils and my favorite cherry tree in bloom, I really wanted to see more blossoms.
It's pretty easy to stay away from other people when you're out in the actual gardens. However, at the time they hadn't diverted entrance and exit traffic away from the welcome center, which meant I would come in contact with door handles and a lot of people clustered inside. Also, I always have to use the restroom when I go up there, so I'd be touching even more stuff that would have been touched by others. Even if I went early, it would be crowded by the time I left.
Ultimately, I didn't go. I stayed home and goofed off online and didn't even go outside.
I had sunny-side-up eggs and toast for breakfast and hot dogs and macaroni and cheese for lunch. I didn't take a picture of dinner for some reason. It might have just been frozen dinners :> We usually keep those on hand for the days I don't feel like cooking.
Monday, March 16 (Day 3)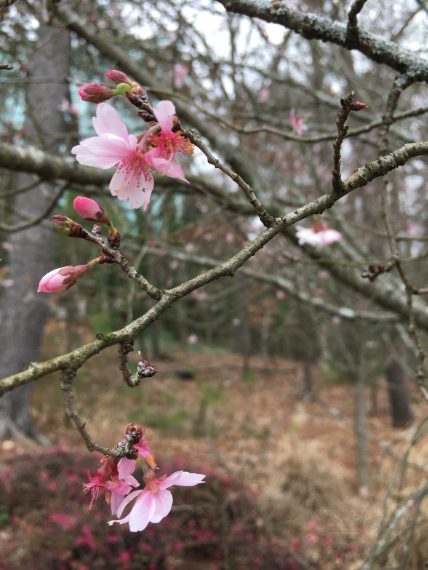 I worked from home again. All I had brought from work was my laptop and a few documents. I had recently rearranged my home office, putting the big desk and the hutch desk into an L shape so that the hutch desk was on the back wall next to the window and the big desk was facing the door. I had my big Sager photo-editing laptop on the big desk, so I put my work laptop on the hutch desk. It wasn't perfect, but it worked okay for one day.
After work I took a walk through the apartment complex and then down the street because I was tired of being indoors and I wanted to see spring flowers. I was lucky enough to see a lot of blooms, including forsythia, Chinese fringe-flower bush, tulips, cherry blossoms, pansies, azaleas, redbud trees, and camellias. I took photos until my phone's battery died :D It wasn't Gibbs Gardens, but it was something.
I did pass one person, but we both avoided each other, keeping well more than six feet between us. Go social distancing.
That night I made curry!
Tuesday, March 17 (Day 4)
My boss got some property removal forms so we could pick up more of our stuff from the office, and the whole team ended up there at once, with the buildings otherwise being practically deserted. It was really nice to see them. I am moving to a different team soon, and I'm really going to miss them. I had already been doing some training with my new team, and when I mentioned to my new boss on Slack that I was going to the office, she asked me to water her succulent, so I did. (I hope she has since gone to pick it up, lol.)
I took both of my monitors, my keyboard, my mouse, the dock for my laptop, my markers and pens, and more documents. When I got home I ended up putting my work stuff on the big desk and moving my personal computer to the hutch. I'm not a huge fan of this arrangement, but so far it seems to be the best I can do under the circumstances.
That night I made dinner sausage with creamy garlic shells and mixed veggies.
Wednesday, March 18 (Day 5)
It turns out that working remotely involves a lot of video conferencing. I already knew that plugging my laptop into its dock made the microphone not work, but I forgot, so there was a moment of confusion during one meeting until I remembered and pulled a gaming headset Mom gave me years ago out of the hutch desk. I'm the only one in meetings who has to wear a headset, so I feel kind of silly. It's also surprisingly heavy! My neck gets sore after awhile of wearing it.
I unplugged the headset from the dock after a meeting and my laptop bluescreened, so since then I have just left it plugged in.
When it became clear I was going to be working long-term from home, I ordered a whiteboard for my home office. I use one all the time at work and was kind of floundering without it. It arrived on Day 4 and I mounted it to the wall on this day after work.
I don't have pictures of breakfast or dinner, but I do know breakfast is always a boiled egg and either cottage cheese or Greek yogurt. Lunch was a turkey sandwich with provolone and some Cheetos.
Thursday, March 19 (Day 6)
Sometimes I want something warm for breakfast. I made myself some minute oatmeal on the stove and it was great.
Sean went to the store at some point to get more food, and they didn't have the honey wheat bread we usually get. They didn't have most bread. They did, however, have Captain John Derst's Good Old Fashioned Bread, so that's what he got. This is unfortunately white bread, which means I have been having gas. I don't know if I've mentioned this sad side effect of weight loss surgery this plainly before, but there you have it. White flour makes me fart. I look forward to the days when we have wheat bread again.
Lunch on this day was tuna fish (on white bread) and cheddar-flavored popcorn from a Frito Lay Baked & Popped Mix. We usually got a different mix of chips for my lunches, but again, this was all there was. I have actually ended up liking this mix a lot, though.
I went for a brief walk after work and saw a gorgeous redbud tree. :)
Friday, March 20 (Day 7)
Cottage cheese and a banana for breakfast. At lunch I went out to the patio and cleaned off the table and deck box and took the covers off the cushions and put them in the washing machine, then ate my lunch out there (some kind of sandwich and baked Lay's). The weather was beautiful; I sat in the armchair with my laptop, hoping to get some writing done, but ultimately all I did was scroll Twitter and enjoy the view. (There's a redbud right behind my patio!)
I think I really started getting stir-crazy on this day because I apparently took a walk in the middle of the afternoon. My car had a thin sheen of pollen on it, so I took a picture.
After work, I put the covers back on the cushions and lounged around on the patio for a bit. Then I made stir fry with some pre-seasoned turkey strips I'd gotten during my panicked grocery run. They were pretty good, but it ended up not being quite enough food…next time I'll make some rice to go with. (We were still hungry at 9 o'clock, so we each had a hot dog and some chips.)
Saturday, March 21 (Day 8)
It rained Friday night, so when I took a walk I saw that the pollen had been washed off my car. (This of course would not last.)
I was definitely getting stir-crazy, because on this day I got Jimmy John's for lunch. They had switched to online orders only, but I still picked it up at the drive-thru. It was my first sweet tea in over a week, but I was too anxious about having potentially exposed myself to coronavirus to properly enjoy it.
(When I got the food home I took it out of its packaging and threw the packaging away and scoured my hands.)
Dinner was roast pork (we get pre-seasoned roasts from Kroger; this was our last one), au gratin potatoes, and peas.
Sunday, March 22 (Day 9)
On workdays I had been getting up and properly showering and dressing, as if I were going to the office. The first couple days I even wore my ID badge for authenticity. But this was the weekend. I didn't get dressed at all this day. I sat in bed with my writing laptop and ate breakfast and then lunch while poking at a story I had started writing the previous day. Unfortunately, even though I got a fair amount of writing done, I ended up feeling super down and irritable by the end of the day.
Dinner was breaded fish (from frozen), mixed vegetables, and rice.
Monday, March 23 (Day 10)
My lunch break was later than usual on this day, possibly due to meetings (I don't remember). I got more writing done on my little story, and I think my mood was better due to having something to do all day.
For dinner I made mini meatloaves, creamy garlic shells, and some weird seasoned peas and mushrooms I'd gotten in my panic shopping. Unfortunately I didn't have any onion to put in the meatloaves, so Sean didn't care for them, and he also didn't like the peas.
Tuesday, March 24 (Day 11)
Lunch on this day was what I like to call an "adult Lunchable"—a Hillshire Farms Bistro Board. I also ate one of the leftover meatloaves.
Mom sent me a picture of the weeping cherry tree in her side yard; it was in full bloom and looked amazing.
At this point I had not shaved in…quite some time. I took some photos of my hairy legs for some reason after dinner. I didn't take a picture of actual dinner, so I don't know what we ate, lol.
Wednesday, March 25 (Day 12)
My bone marrow birthday! 22 years cancer free. I didn't celebrate in any way, but I remembered.
I got extremely aggravated on this day and took a walk in the middle of the morning. This whole not leaving the apartment thing is hard.
I did see a beautiful flowering tree that had dropped white and pink petals all over one of the community grilling areas, and it looked so pretty! Going outside helped a lot.
Also, the cars had been freshly pollinated, so I took pictures, naturally.
Dinner was crab Alfredo and some pre-seasoned green beans and potatoes from the grocery run. These veggies were more palatable to both of us than the peas and mushrooms.
Mom had decided a few days earlier that she wanted to send me a present, something fun during this weird time. So I told her about some items on my wishlist that I wanted, and she got them for me. The first arrived on this day: a magnetic refrigerator whiteboard calendar. After dinner I rearranged all my refrigerator magnets to put the calendar front and center, then sent her a picture :)
Thursday, March 26 (Day 13)
The pollen was even worse this day. For some reason I really enjoy taking pictures of pollen. It has been messing with me though, headaches and sneezing. So delightful.
I took a late afternoon walk and the weather was amazing. Everything was so bright and green. At one point a kid (teenager? Early 20s?) came walking down the street toward me. I didn't want to cross the street to avoid him because that seemed rude, so I stepped off to the side and turned away, but he ended up crossing the street to avoid me, so Problem Solved.
On this walk I saw a lovely Japanese maple with red leaves, more Chinese fringe-flower bushes, and bright purple azaleas.
Dinner was hot dogs and creamy garlic shells. We are running out of meats…
Friday, March 27 (Day 14)
Yesterday!
Sean and I had talked the previous night about when he should go to the store again, and I said the morning would be best, but based on the fact that he was asleep when I got up, he must have interpreted this to mean "Saturday morning." I spent the morning anxiously building a shopping list for pickup at Kroger. Then I realized Sean needed to look at it too, so I left it up in a browser window all day while I worked.
Mom's other gift arrived, one of those pillows with arms that are nice to lean on. This one comes with a neck roll. I want it to use when writing in bed. After work I unboxed it and it turned out to be vacuum-packed. I had to free it and then let it expand over 48 hours. So it's sitting on the guest bed until it's ready to be used.
Dinner was fish from frozen, stir fry veggies, and rice. Now all we have left meat-wise is hot dogs, one bag of crab, a box of frozen shrimp, and two more boxes of those turkey strips. This doesn't sound as urgent as it feels, lol. After dinner I asked Sean to look at the shopping list. We went through it and added some things and then tried to check out. It told us that the location we'd chosen didn't have any pickup times available, and I thought this meant that was because the store was closed, so I decided I'd place the order the next morning.
Saturday, March 28 (Day 15)
And we're to today!
I woke up a little after 7 and took my morning meds. Then I tried to place the grocery order, but it gave me the same message. This time I clicked on the "pick a different store" option, and it showed me stores and their earliest pickup times. So I guess that means our closest store doesn't do pickup at all.
The earliest time available was today, but the store was way out I-20 to the west. I decided to go with a closer store with a pickup time of tomorrow evening.
After that I went back to bed and slept until 10:40.
I got up, showered, and gathered all the things I would need from the bedroom and bathroom (such as: tampons, yup it's that time), and then asked Sean to move to the bedroom so I could do stuff in the main living area. I'm not sure if I've mentioned this on this blog before, especially since I haven't updated in awhile, but he sleeps during the day, and on the couch. This doesn't bother me too much when I'm at work, but when I've got free time at home I typically want to use the TV and whatnot. So he moved and I started tidying up (as you do) and then made myself some sunny side up eggs and toast. By this point it was almost one o'clock, so breakfast was lunch.
Since then I've been at the dining table on my writing laptop. At first I was reading fanfic, but then I switched to writing this post. I'm not sure how long I've been doing this, but it's definitely been hours. I have gotten up to wash the couch cover and blanket and to get more food/water, but that's basically it! I certainly don't plan to spend this much time on my daily posts after this ;D
It's about time to make dinner, so I'll wrap up here.