Recently I posted a bunch of Welcome to Night Vale art prompts on Tumblr.
The first one was simply this: "I need a picture of Carlos putting his lab coat on Cecil's shoulders, please…someone…" I didn't know if anyone would even see it, let alone reply, but Sisaat, one of my favorite WTNV fan artists (their style is just so dreamy and beautiful!) took the idea and ran. ("okay so this is turning into a comic for some reason so it might take a while and be sloppy, but it will happen," they posted.)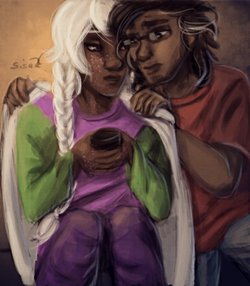 And here it is!
I don't even know what I expected. Maybe I was thinking it was just cold out and Carlos was offering his lab coat for basic warmth. But this…this is so sweet, yet sad. I'm just overwhelmed by how a random request I tossed off one day became this absolutely gorgeous artwork, this amazing little story.
My next post in this vein was a list of ideas, starting with "Carlos in Science Goggles." This post was actually reblogged by popular WTNV fan blog sexybaldwin, so now I keep seeing artists fave or reblog it. An artist called classynerdpot responded to the prompt "Carlos giving Cecil a traditional, careful shave with a straight-edge razor." You can view that one here. Again, not at all what I was imagining–to be perfectly honest, I was thinking of this scene from Skyfall–but oh, isn't this funny and cute? I love it!
I wonder if anyone else will draw any of my prompts? It's so exciting!
This experience makes me miss the Anime-Manga Roleplaying Network. Writing was so much fun when I had other writers to respond to and plot with. Other people have such interesting ideas. They see things I don't, go places I never would. And then I can build on that, and so on, until we have something amazing.
I need to find someone to work on a project with, I think.
[Update: Carlos in Science Goggles!]