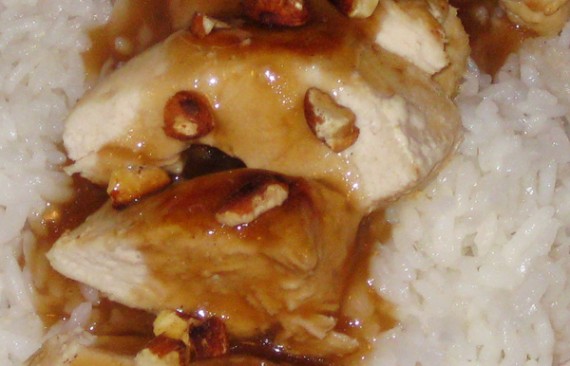 Sean and I have had trouble finding a go-to Chinese restaurant since we moved to the Atlanta area. He's very particular about his almond chicken: he wants it to have thick gravy, and he also likes the chicken to be breaded and fried as a whole breast and then sliced afterward.
One of the restaurant managers I talked to said most restaurants here do a thin soy sauce because their customers are concerned about fat content. We have found one Chinese place near us that does the thick gravy, but they fry small pieces of chicken individually, and the quality of their food isn't great overall.
I finally decided I would try to create the dish at home and see if I could satisfy my picky husband. Since in terms of cooking I'm a relative n00b, I searched around online awhile for tips. The first recipe I found that involved thick gravy was actually from a vegan blog: Crispy Fried Almond "Chicken" with Gravy (Soo Guy). Using that blog entry as a reference, here's how I made dinner.
First, I started a cup of white rice in my rice cooker. The thing takes forever to cook rice, but always with delicious results.
Next I started cooking two frozen chicken breasts on my George Foreman grill, 13 minutes on each side. I decided against trying to fry the chicken, especially since I didn't have time to thaw it, and I knew the chicken would come out nice and tender on my grill.
Then I toasted the almonds. I had a bag of snack pack almonds, so I just used one of those packs. I hammered the pack with a meat tenderizer until the almonds were broken up, then seared them in my wok-like pan. Unfortunately I let them toast for too long, so I had to be careful to pick out unburned almonds when I was finished.
Next I made chicken broth. I boiled some leftover chicken for 3 minutes, then scooped the chicken out of the water and added the soy sauce and butter. (I actually messed up the first time by putting in way too much soy sauce; I started over with the amount listed on the vegan blog and it worked great.)
In a larger saucepan I combined cornstarch and water, then slowly added the broth/soy mixture over medium heat, continually stirring until the gravy formed.
Next was simply plating: I put down a foundation of white rice, cut up the grilled chicken and laid it across, drizzled the whole thing with gravy, and then sprinkled roasted almonds on top.
It turned out that I hadn't made quite enough chicken, but Sean loved the gravy. He loved the entire meal. Apparently frying isn't necessary; he just likes the nice tender chicken combined with the thick sauce. When he was done with his plate he went back for the leftover rice and as much gravy as he could put on it.
Cooking for me is always such an iffy prospect, especially when it's something new. I'm really glad this turned out well. It is always so satisfying to score a win in the kitchen.
I think next time I'll cook more meat, and I'll also make a side of steamed or stir-fried vegetables.