Wow, okay, I haven't posted in nearly a month, and haven't done a true shelter-in-place update in longer than that. Way to go.
First I suppose I should say that I got through that depressive period. I had to physically go to my doctor's office to get my prescription renewed, but he did it, and after readjusting to it I am doing all right.
It's been so long since I've updated that I'm not sure it would be worth it to go through and list the few details I can pull together for each day (what I ate, anything out of the ordinary that happened). I did completely fill out my refrigerator calendar again: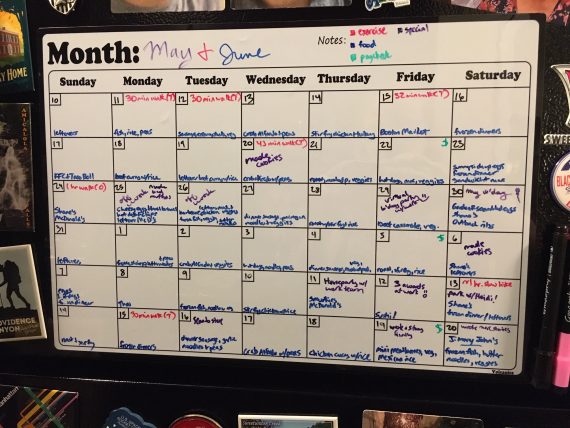 Not a whole lot of exercise (reddish pink text) went on in May and June, as you can see. My plan had been to try and watch my way through all of Star Wars chronologically while walking on the treadmill in the mornings, but I only made it through TPM, AotC, the first two episodes of Clone Wars, and the first half hour or so of the Clone Wars movie. Maybe I'll resume…someday. (Honestly, I am just really not interested in the "wars" part of Star Wars.)
Some nice things that happened during this time: I made cookies twice, I had two days off work for my birthday, I had a virtual birthday party with my work team, I had a virtual game night with my work team, I won three awards at work (and Sean and I celebrated with sushi), I went to the park with Heidi (both wearing masks and staying six feet apart), and I got started back with creative writing. For my birthday, Sean made me Gordon Ramsay style scrambled eggs for breakfast, I got Shane's for lunch, and we had Outback for dinner with Cheesecake Factory for dessert. I had ribs instead of steak for a change of pace. Everything was awesome.
I don't put the shows we're watching on the calendar, but I can report that Sean and I finished watching all of NCIS, which is wild. 17 seasons. After that we went back and finished watching She-Ra, and now we are watching the 90s sitcom Just Shoot Me. We need to get to Picard at some point.
Here's the calendar as it stands now: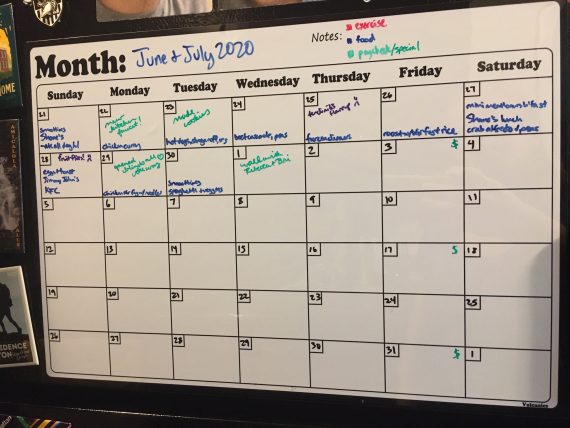 I switched the "special" things from dark purple to green so they would stand out more. One really nice thing that has happened so far is getting a new kitchen faucet. It's a high-arc pull-down faucet; we had a regular pull-out faucet before. I like how much roomier the sink feels, and the hose is easier to deal with now (it got easily caught on the pipes under the sink before). The faucet got replaced because our old one simply stopped having any water pressure whatsoever, such that it was impossible to even clean the sink out. I thought the repair person would just fix it, but they replaced it instead!
(By the way, when maintenance comes to our apartment, they wear masks and maintain a good distance. It's not ideal to have someone outside the household come in, but at least they are taking good measures.)
Forgot to write this on the calendar before I took the picture, but I did go on a half-hour walk with members of my work team today, virtually. We did a call-in meeting and walked in our own neighborhoods with our phones. The weather is pretty great today, and it wasn't too hot yet at 9am, so the walk was lovely.
Another nice thing that happened recently was that on Monday, I decided to fully retract the blinds in the dining room instead of just opening them. It made such a dramatic difference!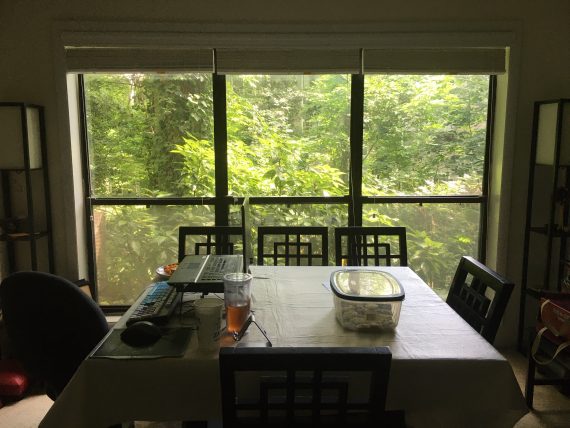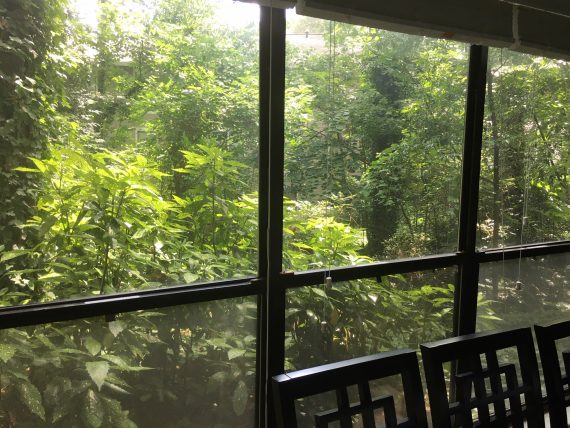 I've been retracting the blinds a lot since then. It's so refreshing. Last night I had them open at dusk and I saw fireflies!
An unfortunate thing that has happened is that my tendinitis has flared up. It was so bad last week that I had to ask my boss to virtually meet with me so I could dictate an email to her. I've been doing my stretching and icing and wearing my braces since then, but it keeps coming and going. I may need to change something else, like how I sit either at my work desk or my personal computer in the living room (or both). Getting an adjustable desk and new chair at work was the main thing that worked the last time this happened…
One last thing before the tendinitis makes it impossible to type: I've booked a cabin for a long weekend toward the end of August! I'm hoping this will help refresh me even more…it's hard to fight feelings of helplessness and pointlessness being trapped at home all the time. Sean and I will go get away from it all and just enjoy being in nature. I plan to try to write, but if my hands/wrists/forearms/elbows are still giving me fits then, I may just force myself not to do anything computer or phone related. I guess we'll see. Regardless, it will be great to be in a different environment for awhile, and have a break from work!
To make this something close to a proper shelter-in-place update, here's what's been going on today:
Breakfast: boiled egg, Greek yogurt with frozen blueberries
Exercise: 1.12 mile walk from 9 to 9:30
Snack: a cup of leftover crab Alfredo
Lunch: turkey sandwich with pepper jack cheese, Lay's chips, and sweet tea