I often feel that there are so many things we could be doing. So many things we are capable of. So many things we just aren't achieving that we should be readily able to.
Sometimes I discover that we are at least partially doing those things, but we're not doing them in a way that people know about or can find or share easily.
This morning I heard a tornado siren. It's only the second time I've heard it since I've lived here. The first time, nothing happened, so this time, I didn't think much of it. An hour or so later I saw a tweet remarking on Atlanta's "tornado-y" weather, so I thought I'd see what the deal was.
I went to my go-to weather site, The Weather Channel's weather.com, and clicked on my local forecast, which is saved in a tile at the top of the page. Then I clicked on the Alerts, and in the drop-down I saw Tornado Watch until 4pm. That was all I needed to know, so I left the page.
Some time later, I saw this tweet:
RT @atlantaredcross Good @weatherchannel graphic of GA areas now under a tornado watch. http://t.co/Dg4JKQV3

— Discover Atlanta (@DiscoverAtlanta) January 30, 2013
If you follow that image link, you get…a cell phone picture of a TV screen.
A cell phone picture. Of a TV screen.
I understand wanting to share important information quickly. Actually, I think the ability to do that is rather important. But it astonished me that the most efficient way to rapidly share vital information online was apparently to post a picture of it.
We have the data. We have the technology. We can do better.
I went poking around weather.com to find the source of that image–better yet, something that would stay up-to-date no matter when someone got the link. First I went to the Atlanta forecast page. I clicked on things, but never saw a map like the TV picture. I did find a list of affected counties, which is useful, especially for people who can't see pictures. But I wanted to duplicate the experience a viewer of the picture would have–duplicate and enhance it.
Finally I clicked on the Map link in the sidebar, and that took me to the interactive Weather Map. This was the same thing I'd seen on the forecast page and ignored because it didn't have the tornado warning areas highlighted. But I gave it a chance; I clicked on Map Options. Scrolling all the way to the very bottom, I finally found the Weather Alert Overlays, and I clicked the radio button next to Severe Alerts.
And there, at last, it was.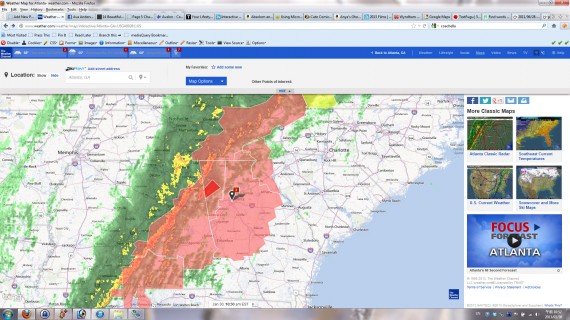 I quickly sent a link and instructions in response to the tweet. Then it occurred to me to check the link on my phone. I opened Tweetbot and tapped the link and sure enough…the interactive map doesn't work in iOS, because it uses Flash.
Sigh.
Here's what I want. I want a map that works regardless of the device I'm using. I want the ability to share a direct link to the view I am using–in this case, Severe Alerts–not just a generic link to the default map (which is what you currently get from those sidebar social media buttons). I want a forecast page that calls up versions of the map that are relevant to any weather alerts currently in effect.
As I said, we are capable of so many things. So many useful things. So many things that would be a genuine help to society.
The thing is, if we try to do those things, we can't just throw something together and say we're done. We have to make it easy.
Otherwise, people will skip right past it and keep taking pictures of their TVs.