Shopping has always been a pain for me. I've tended to only go to a few stores, where I'm reasonably confident I can find things that fit and flatter. I never really thought about why it was so difficult to find clothes; I just assumed it was because I wasn't proportioned like a fashion model. But it turns out that the stores themselves make things unreasonably complex by each using their own sizing system.
The Guardian's DataBlog has a new piece: What's your perfect fitting top, skirt and dress on the highstreet? Author Anna Powell-Smith, frustrated by how difficult it is to shop for women's clothing, gathered data from all the shops she could and compiled them into an online application that tells you what sizes to look for in each store. It's called What Size Am I?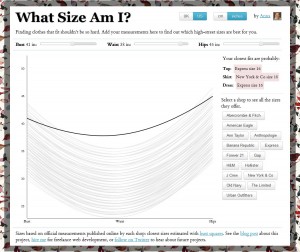 This is going to be very useful to me when I hit my final weight and finally go on that shopping spree I've been planning. All you do is pick whether you want UK or US stores, inches or centimeters, and then put in your measurements. Right now the app tells me,
Your closest fits are probably:

Top: Express size 16
Skirt: New York & Co size 18
Dress: Express size 16
Being supremely unfashionable, I wear pants most of the time, so I wish those were included. Maybe the skirt size works for pants too? [Edit: Ms. Powell-Smith let me know on Twitter that skirt and pants sizes were the same at most stores.] Regardless, it will be neat to put my measurements in as I continue to lose weight and see what my sizes change to.
The US stores included in the app are Abercrombie & Fitch, American Eagle, Ann Taylor, Anthropologie, Banana Republic, Express, Forever 21, Gap, H&M, Hollister, J Crew, New York & Co, Old Navy, The Limited, and Urban Outfitters. I am pretty sure I have never bought anything from any of these places! I think I remember trying on a blouse in Ann Taylor once. And I walked into a Gap one time, but all their sizes looked too small, so I walked right back out. So yeah…when the time comes, this is going to be an adventure.