My weight has been fluctuating since this whole thing began. I'm supposed to pay close attention to this because rapid weight gain could indicate fluid retention, which would be Bad. However, so far I have not seemed to retain any fluids.
I started out around 150, but since I started watching sodium, my eating habits have changed some, so my weight dropped to around 140. It has been bouncing around that level ever since. Here's a lovely graph: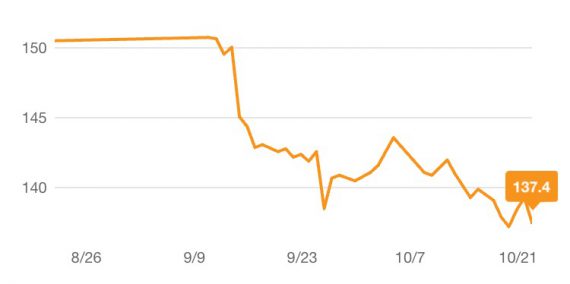 That spike in the middle happened during the New York trip, when all dieting efforts went out the window. I think the current low is due to a days-long period of depression that I think I am now coming out of.
I'm not really…concerned about this? I just wanted to document it because it's interesting. So here it is.
(I feel like 140 is probably where I should actually be, since that's where I seemed to level out initially after weight loss surgery, so that will be my "goal weight" going forward.)