As of today I am at the weight at which I said I'd be content, 138 pounds. I look good. I feel great. At this point I could just say "mission accomplished" and go on with my life.
But there's more to these life changes than meeting an arbitrary weight goal. The post-surgery weight loss period lasts up to two years, and I'm just now ten months in. There's a whole year left in which I can work to sculpt away my remaining flab. And after that, it's not like I'm going to go back to eating and living the way I did before. My food tastes have changed, and I am loving how energetic working out is making me. I'm looking forward to maintaining a healthy lifestyle forever.
I mentioned before that I wasn't going to be paying as much attention to weight. And I haven't been; I rarely weigh in. But I've decided that when I do, I want the various trackers I use to reflect my current reality. I've reached one goal. Now it's time for a new one.
Today is my new "start date". Based on my weight loss slowdown, I decided a pound a week was a reasonable rate. I put in 125 as my goal weight; two programs tell me I can reach that weight by the end of October.
I don't know if I'll actually get there–muscle weighs more than fat, and I expect to gain more muscle as I continue working out–but it's nice to have a modified plan with a fresh goal line to start with.
Here's how my SparkPeople goal line looked originally. As you can see, the deceleration of my weight loss caused my tracking line to approach the goal line (click to embiggen):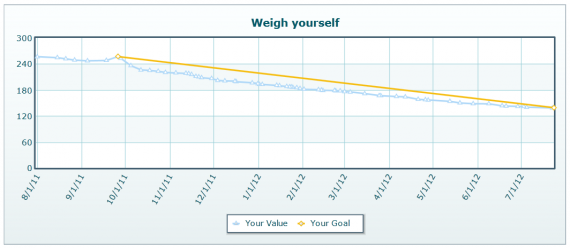 Here are my weights from April until now, showing the approach more dramatically: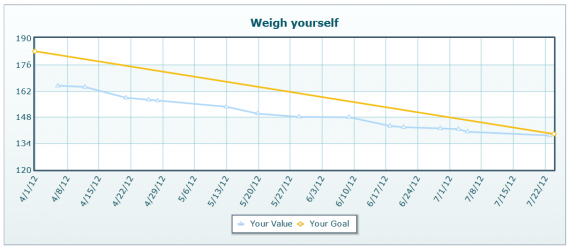 And here is the beginning of my new goal line!
I'm pretty excited to start with a new plan and goal, and I'm looking forward to seeing how things play out in the next three months.