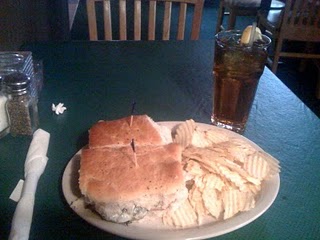 Lately I have been struggling with things I want to do, things I need to do, things I absolutely have to do, and things I think I should do. I've been stressed and unhappy for most of this week, a striking contrast to last week, when I felt like I could do anything. I ended up burning out and crashing hard and it sucked.
I feel like I go through cycles of mood and competence. Normally it doesn't flip so fast from week to week, though.
I'm reevaluating lots of things. What do I definitely want, and how can I get it? What things do I have to do every day to make those goals happen? Is there anything I can cut out to save time and energy?
Moving to North Augusta would help–I would be able to walk or bike to work, maximizing my commute by combining it with exercise. But I doubt it will solve all my problems.
So here I am at Boll Weevil, seeking comfort in warm familiarity, settling in with a Curious George, chips, and tea.
I hope I can figure this out.