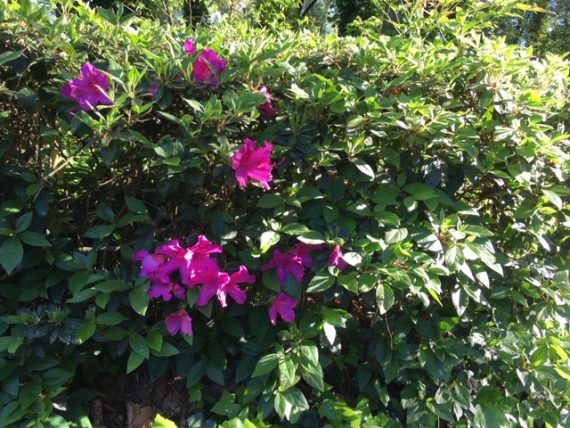 Oof.
I did not want to get up this morning. When my alarm went off at 6:30, I set a timer for 20 minutes and went back to sleep, and when that went off, I did it again. I only ended up dragging myself out of bed because I really had to pee.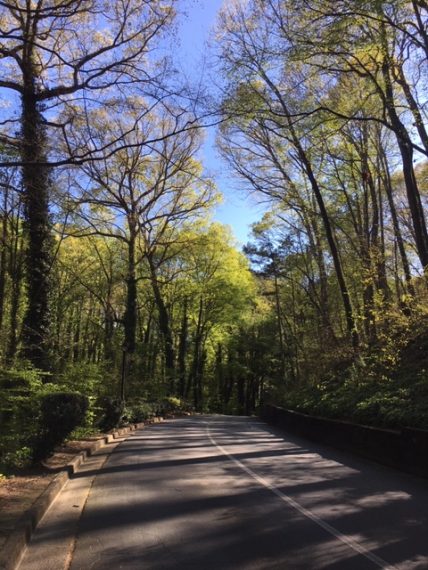 Work was good. I ate
a banana,
Greek yogurt, and
a boiled egg
as I worked and attended meetings, finishing that breakfast around 11. I meant to take my lunch break from 11:30 to 12:30, but I got super involved editing an Excel spreadsheet (sometimes I just really enjoy doing that sort of thing) and ended up working on it until after noon. Since I had a meeting at 1 and another one at 2, I didn't take a break until 3, when I finally stepped away from the computer to relax in bed with my writing laptop.
I've been doing that all week, and it's very cozy to be all snuggled up in bed with my new giant pillow. It's especially nice today, as the temperature dropped precipitously overnight. It was 40° out when I got up this morning. It eventually got up to 68°, but the apartment was chilly the whole day.
I didn't end up writing anything, but I did a tiny bit of editing on the story I've been working on, so that was good.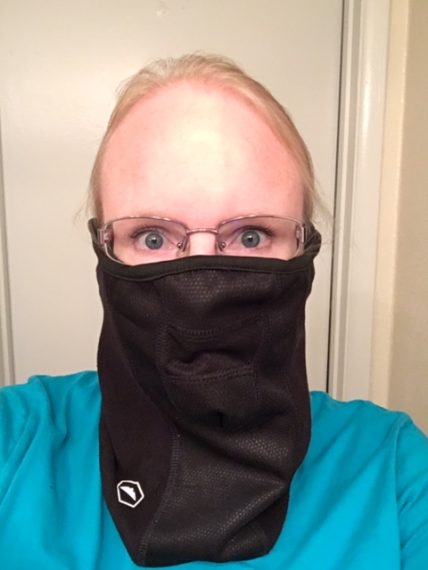 After work I took an hour-long walk. This time, I wore a balaclava.
I bought the balaclava way back in November of 2018. I was thinking it would be good to have for walking/jogging in the cold. However, I threw it in my pile of workout clothes and never actually used it.
It's obviously meant to help you keep warm, so it was perhaps a poor choice for 70° weather, but it made me feel better to wear it while being outside. There were lots of neighbors out, and only three of them (a family) were wearing masks. For the most part, everyone did decent social distancing, though one woman and her dog walked kind of close to me twice. (I turned my face away.)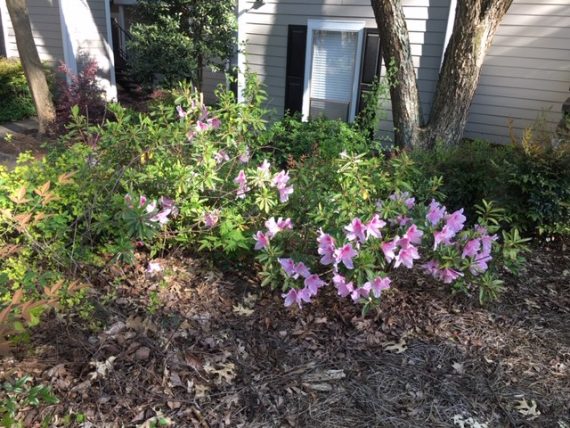 I didn't get super uncomfortable in the balaclava. I was able to drink water by pulling the bottom hem out and sticking the straw of my Camelbak inside. At one point either a bug or some sort of plant detritus flew inside the mask and kept tickling my nose. And it did get warm; my ears actually got sweaty. But it wasn't terrible, and I felt a lot less anxious about being outside. I know the balaclava wouldn't protect me from someone coughing or sneezing in front of me, but maybe it would help with particles still left in the air from someone who coughed earlier. And at the very least, it made most people want to keep their distance.
There were lots of blooms to take pictures of today: azaleas, dogwood trees, redbud trees, and trees with pink flowers that I'm having trouble identifying.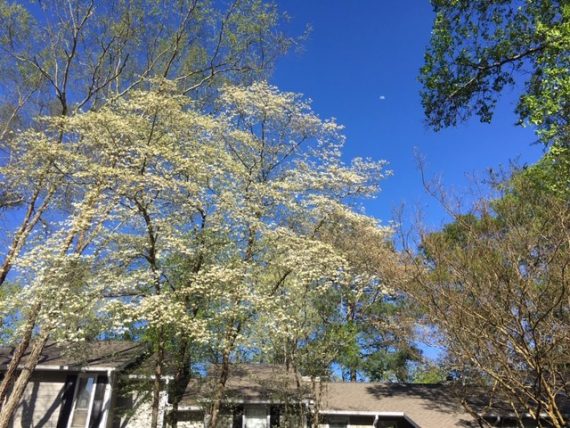 Someday I'll get back to uploading to my photo site, but for now the blog will do.
When I got back from my walk, I took a quick shower and then started on dinner. I forgot to take meat out to thaw yesterday, so I cooked frozen fish fillets and made Alfredo noodles and mixed veggies to go with. Tomorrow we'll have one of the Kroger teriyaki pork roasts we love.
The walk cleared my head and made me feel really good. I'm so glad we live in such a beautiful area, and that I'm able to walk through the neighborhood while safely practicing social distancing. If I couldn't be outside at all, getting through this pandemic would be a lot harder.