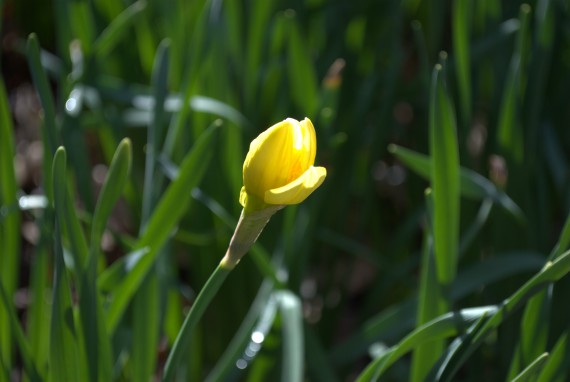 Today was lovely :) I got up around 8, poked around online until 9, then headed out for a day of photographing spring blossoms.
First, after gassing up at Costco and picking up a Bacon Egg n' Cheese Biscuit, I made the drive up to Ball Ground to visit Gibbs Gardens. Normally I go early and arrive right when the gardens open; since I was late today, I had to park in the secondary lot and walk back to the entrance. On the way, a lady approached and asked me if I'd been there before. She was new to the gardens, so I told her as much useful information as I could—including that I think the best time to visit is the middle of summer, when the crape myrtles are in bloom. Spring is pretty in a subtle way; summer is ostentatiously gorgeous.
The daffodils were out in full force throughout both of the main gardens, as well as in their own special woodland fields. I went through the Japanese Garden, spotting a cherry tree and a plum tree, then hiked up to the Manor House, where I saw that the distant mountains were clearly visible against the bright blue sky, and two ladies asked me to take their picture in front of the house. Finally I strolled into the forest of daffodils, and it was incredible. Last year when I saw them, it was sort of early, so there weren't nearly as many. Today, they were neverending.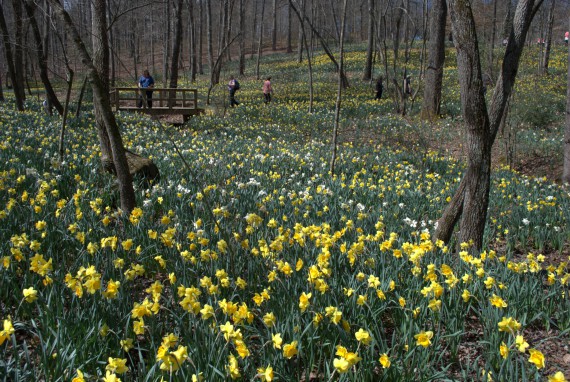 The gardens were packed with people. As I was leaving, there was a line not only at the cafe and the restrooms but even just to get in the door! It was lunchtime, so I ate a CLIF bar in the car, then drove to downtown Ball Ground to get pictures of the flowering trees I'd seen on the drive in. There was a lot of traffic, and plenty of people were milling about near the Cajun restaurant and the German butcher shop, but I couldn't tell if something special was going on, or if they were all just enjoying the beautiful weather.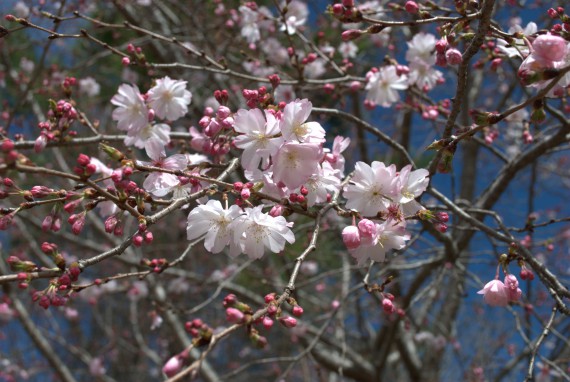 I decided I wasn't quite done taking photos, so instead of going home, I went to Midtown and the Atlanta Botanical Garden. Parking was a little nuts, but I found a spot in the lower levels of the garage. On my way out of the parking structure, two men approached, and one of them asked hesitantly, "Excuse me, do you know where the botanical gardens are?" It is sort of confusing when you're leaving that garage. "Yes," I said. "It's this way." And I gestured the way I was going. The men thanked me and strode off ahead.
Like Gibbs Gardens, the Botanical Garden was filled to bursting with people. There was a bonsai exhibit set up at the entrance, and daffodils and tulips were everywhere.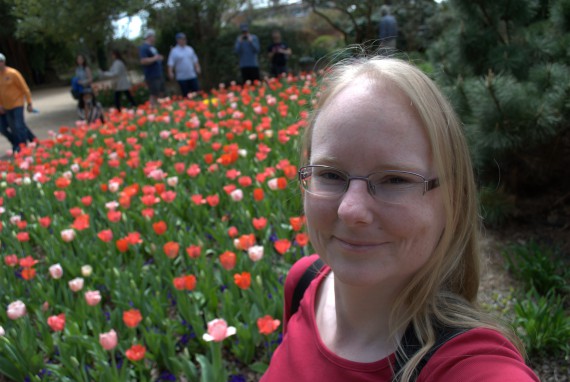 I had made it through the Edible Garden, the Fuqua Orchid Center, and the Conservation Garden and was trying to take a photo of a pretty white flower near the Great Lawn when my camera decided to stop working. It's a known issue with Nikons; apparently I will have to take it apart to fix it. This put a huge damper on my mood, as I felt I had just barely gotten started. Annoyed, I took a few more photos with my phone, then made for the parking garage. I ended up not seeing the Japanese Garden at all.
As I reached the parking garage, I realized I was hungry, so I decided to walk over to Park Tavern at the other end of Piedmont Park. It would be nice, I thought; the restaurant had always been quiet and empty the other times I'd gone there, and I could take the opportunity to rest and catch up on Tumblr. So I strolled past the pond toward the other side of the park, stopping for a skyline shot.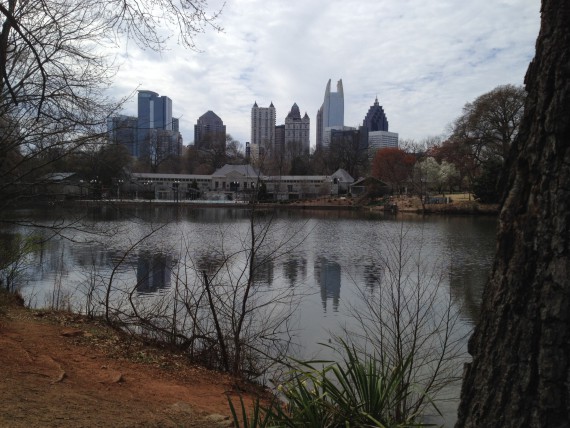 Unfortunately for me, Park Tavern was not quiet and empty today. Every table was either reserved or filled with people. The outdoor section looked to have been expanded and it was still overflowing. I don't know if I had just never been there at that particular time of day, or if something was going on—maybe everyone was watching NCAA basketball. Regardless, I left disappointed and hungry.
On the way back, a young couple asked me to take their picture in front of the pond and skyline. After that, I stopped to rest on a park bench alongside the pond. I read Tumblr and took a couple pictures with my phone until I was ready to walk again. I felt pretty good when I finally made my way back to my car.
On the drive back out of town, I passed my exit again, this time so I could pick up some Zaxby's for dinner. Then, at last, I went home. I ate my dinner and surfed the web and took a nice, long bath. And now here I am recounting it all to you.
So yeah, it was a nice day. I'm glad I got to get out in the sun and see some pretty flowers. :)