I stopped blogging for awhile there, huh?
Let me try to let you know what's happened since I stopped doing the daily recovery posts back in December.
I guess the most important thing is that my heart recovered.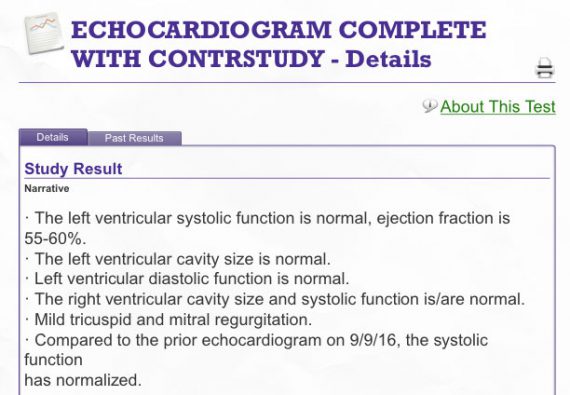 This news came on February 1 with an echocardiogram. I was astonished; I thought my heart might have improved a little, but the result was an ejection fraction of 55-60% (normal). Heart Failure Part Deux was far shorter than the first time around! I credit it to three things: 1) the heart medication, obviously; 2) I changed my diet and started exercising right away; and 3) I started out 120 pounds lighter than I was the last time. I am pretty confident that #3 played a major role, and I am so thankful to have had weight loss surgery.
Other than that, I have been playing Medication Roulette and going to therapy to deal with various things. Sometimes it seemed to be going well and then something would go wrong. Things seem to be looking more promising now. We'll see, I guess. The latest issue is that a medication I was taking was causing me to be tired all the time. No amount of sleep was ever enough; I was always drowsy and had no energy to do anything. So I switched off it back to a lower dose of one I had been taking before. We had switched off that one because I had an anxiety attack and things got really, really bad, but I think the problem was that the dose had been increased. So back to the original dose. Fingers crossed. (I can't take extended release medications, and this seems to rule out a lot of options.)
Unfortunately, coming off the medicine that made me drowsy has been very difficult. At first we tried cold turkey, but doing that made me too sick to function. Next we tried to wean me off it, which went better at first, but now, at the end of the weaning period I seem to not have weaned slowly enough. More on this below, but first some fun things.
The winter was pretty mild, with occasional arctic blasts, resulting in Gibbs Gardens' daffodils blooming early. They moved their opening from March 1 to February 18; I went on Sunday, February 19, because Saturday was rainy. It was a beautiful day and the daffodils were everywhere.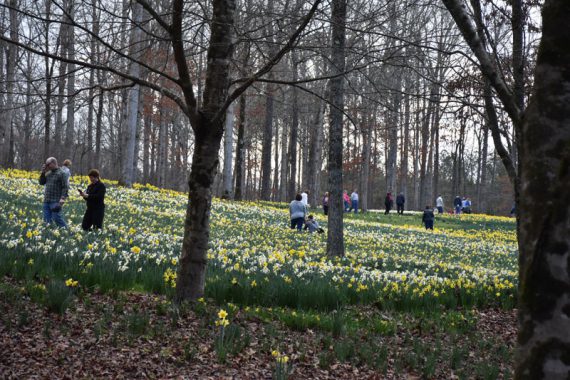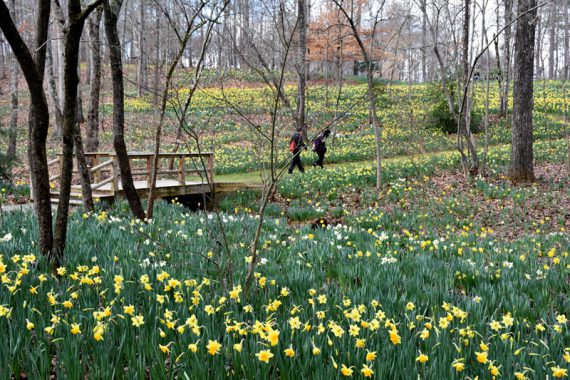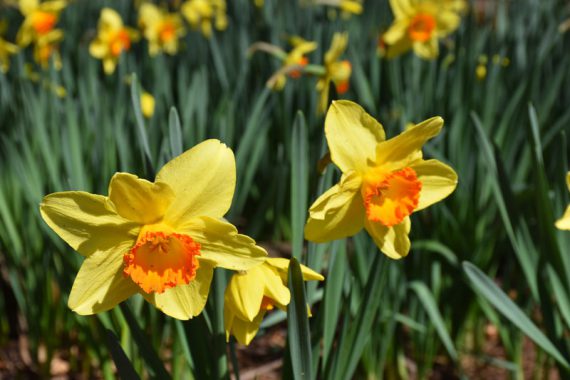 There were also cherry blossoms!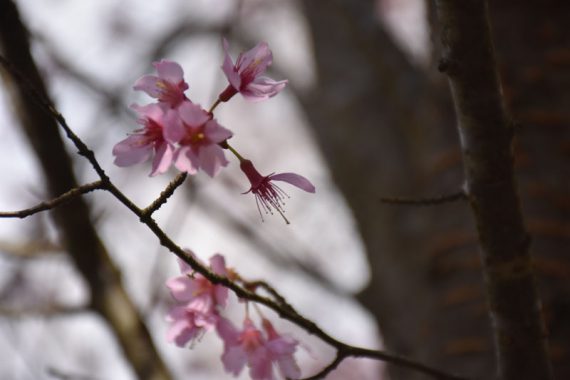 It got kind of cold again for awhile, but then on March 11 I went hiking at Vickery Creek in Roswell. It was a fantastic hike and I want to go back soon…especially since I didn't get to see the mill ruins. (I did see the manmade waterfalls though!)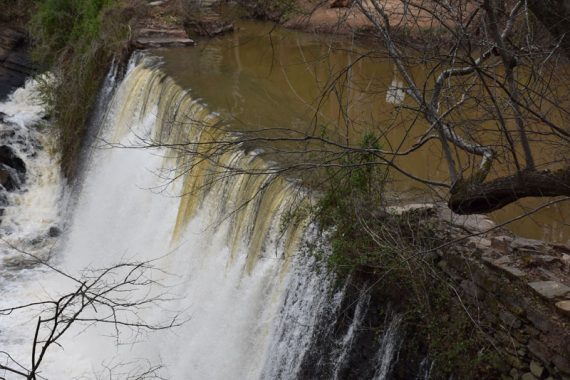 On March 19 I went to Arabia Mountain with Charles and Heidi. We took their dog Ginny with us :) I had been to the area before on my own, but I was on the wrong side of the street and never climbed the actual mountain. We did the Mountain Top Trail. Arabia Mountain is like Stone Mountain, except it's smaller and it has these amazing little pools of plant life in its "craters". One of the plants is this strange, almost coral-looking red stuff called diamorpha. It was everywhere and I got lots of pictures.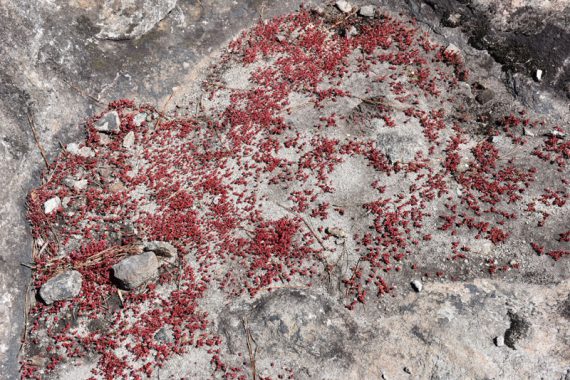 I was unable to hike, or really go anywhere, this past weekend due to withdrawal symptoms from the medication I switched off of. I actually had to leave work early because of it. I would get extraordinarily dizzy, and when I'd move my eyes I'd hear strange echoes in my head. It was very unpleasant. The symptoms lasted until Monday morning, when I gave in and took half a pill. Since then I've been all right, but I'm prepared to take another one tomorrow if necessary, because that dizziness is no joke.
I want to try to hike/visit a garden every weekend now that the weather's nice, because being outside makes me feel so great. I'm considering Piedmont Park and the Botanical Garden for this weekend but I heard on the radio that Zoo Atlanta has a new Treetop Trail and it sounds really fun. There's also Kennesaw Mountain, which I've been to before but never in spring, and Smith-Gilbert Gardens, and Sweetwater Creek, and Stone Mountain, as well as plenty of places I haven't been yet.
Just thinking about being outside has made me feel a lot better than I did when I started writing this post :)
Well, I'm sure I could ramble on about more stuff, but it's past my bedtime, so I'll sign off here.