Today I am three and a half months out from weight loss surgery. This morning I weighed in 67.6 pounds lighter than I did the morning of my surgery. I also passed under the 190 pound mark; almost exactly a month ago, I made it under 200 pounds.
Here's a graph of my weight loss to date, courtesy of SparkPeople, which I've been using to track weight, protein, and exercise: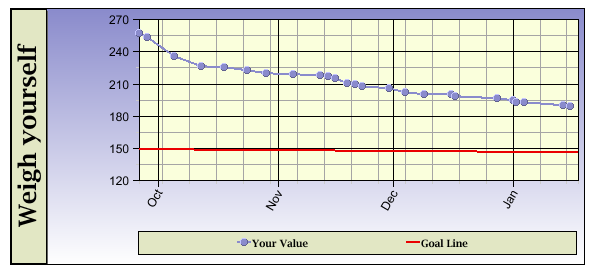 As you can see, there is a precipitous drop at the beginning, then a steadier decline past that, with some near-plateauing around the holidays.
I obviously haven't reset my goal line in quite some time, so please ignore it. At this point I think my goal is 140, but I wouldn't say no to lower. I'm not sure how low a weight I can actually achieve, though; I have a feeling it might be tied to my weight as an adolescent. I was in the 140s in high school, until senior year, when I quit kung fu and ballooned. I'm not sure what my weight was in middle school. When I had cancer, the lowest weight I hit was 145. And I looked good at 145, so I won't complain if that's where I end up. I just don't want to shoot myself in the foot if I can possibly achieve more.
For the first three months, I had to be careful of my stomach and focus on healing. I couldn't lift heavy objects or even reach over my head much. Exercise was limited to walking. Since my Christmas week appointment with the physician's assistant at my surgeon's office, though, I have had the go-ahead to do ab exercises, so long as I stop immediately if there's any pain. I've started out with the Wii Fit and some old workout videos I used to much success back in 2008. (I'd gladly name them, except their distributor is a supporter of SOPA.)
It really surprised me how winded and sore I was after my first 20 minutes of Wii Fit. I commented on Facebook, "You know you're out of shape when…" But the next day I did a 20-minute workout video, and while it was difficult, I got through to the end. And then the next day, I went back to Wii Fit, and I was already stronger and had more endurance. The truism from my old kung fu class keeps coming back to me: The more you do, the more you are able to do.
I went back and forth between Wii Fit and the 20-minute workout video for a week. The next week, Sean and I went out of town for five days, and I only exercised for three of those: the elliptical one day, then a load of walking on the following two as I explored the historic city of Birmingham, Alabama. (There will be blog posts and pictures from this trip later.) When we got back, I resumed my Wii Fit/video routine immediately without too much trouble.
I'm already starting to get bored, though, which has always been my problem with exercise. If I want to keep up my weight loss without losing muscle tone, I need to work my muscles, so I'm going to have to go ahead and change up my routine some. My goal will be to come up with various routines that don't burn too many calories (since it's difficult for me to replenish them) but still give me a good workout and build muscle tone. SparkPeople has some weight routines I can use over at the apartment complex's fitness center, for example.
One hope of mine has been to build up to the point that I can start Jillian Michaels' 30-Day Shred once I'm six months out from surgery. I've heard amazing things about this video and seen some incredible before and after photos online. I bought it before I even had the surgery, but I haven't tried it yet.
A friend has also been talking and blogging about the Tracy Anderson Method recently. I've been very impressed by her results. I think once I get closer to the end of my weight loss, this might be the way to power through those last pounds, and maybe get my weight down lower than I thought I could get it. Of course, there are two things I have to remember. One is that if I start a difficult workout program to lose weight, I will need to keep doing it to maintain my weight. I can't just hit my target weight and then go, "Okay, I'm done!" and stop exercising and eating healthily. While the rearrangement of my insides should keep me from easily becoming obese again, it will not keep me from packing on extra weight. So I will have to consider whether I want to add a difficult workout routine to my daily life forever. Perhaps the answer to this question should be yes. I do want to be active for the rest of my life. I love biking and I'd like to try running again. I want to go on long hikes. I want to climb one of those indoor rock climbing walls, though I'm not sure I'd actually try climbing an actual rock face. In any case, I want to be capable of physical feats. If I want those things, it naturally follows that I should incorporate rigorous exercise into my everyday routine.
The second thing I need to remember is that the lowest weight I hit during this "rapid weight loss" period is not the weight at which I will stay. I have been told to expect that I will lose and lose and lose, and then it'll stop, and then I will gain some back, and that will be my true weight for the rest of my life (assuming I maintain it properly). So even if I do the Tracy Anderson Method there at the end and lose a bunch of weight and get down to the unimaginable weight of 125, I have to realize I won't stay there. To maintain 125 for the rest of my life, I'd have to go down to 115 or something even more ridiculous, then go back up.
To be honest, I'm not even sure what I'd look like at 125. I got that number from a couple of online "What should I weigh?" charts that asked for my age, sex, and height. On BMI charts, my own arbitrary goal of 140 is at the upper end–right at the cusp of being overweight (BMI 25-29.9). 125 is pretty much right at the middle of my "healthy" range (BMI 22).
Having been obese (BMI 30+) for most of my adulthood and into class III obesity (BMI 40+) for the last few years (until recently), and having weighed in the 140s as an adolescent, I'm not sure I can reach the "magic number" of 125, or if I even want to, especially given that I would have to lose past 125 to ultimately get to 125. But part of me is still curious.
At this point, I think the best thing to do is to decide what sort of lifestyle I want and not worry too much about numbers. I'll continue to track my weight and celebrate loss milestones, but I won't set a "goal". And I'll think about the sorts of physical activities I want to do and how to start incorporating them into my life, and what tools would be the most beneficial.
And I'll remember that this is something I'm doing for me. Not for the people who make BMI charts, not for a cultural conception of beauty. I'm doing this, ultimately, to be healthy and happy and able to continue hearing people's stories and exploring this beautiful planet.