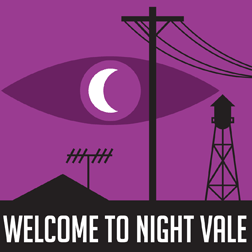 I've long been fascinated by the idea of gender-swapping—taking a known story and flipping all the characters' genders, changing as little else as possible, and seeing what happens. It's an intriguing intellectual exercise. Does it change our perceptions of the characters? Of the story? Do we start to feel that the story is unrealistic? How and why? Ultimately I think it's a great way to poke and prod at our own subconscious biases.
Welcome to Night Vale makes for a very interesting gender-swap subject because, unlike many mainstream stories, it is already so progressive. We've got a diverse cast of characters, with people of differing gender, sexual orientation, skin color, culture, ability, and more. What happens to this rich cast when we swap everyone's gender? Anything?
Today I spent a few hours coming up with a list of gender-swapped Welcome to Night Vale character names. I believe names have meanings we learn intuitively but don't necessarily recognize consciously; keeping that in mind, I tried to come up with names that gave me a similar feeling, or names that etymologically had the same or similar meanings. I did not mess with non-gendered characters like Alisha or the Glow Cloud.
In many cases, I didn't feel that switching the genders made much of a difference. In others, it was harder to imagine gender as being irrelevant. For example, changing Michael Sandero into Michaela suddenly turns the Night Vale Scorpions into a women's football team. This underscores the real-world "truth" that no one cares about women's sports…apparently not even in Night Vale. (Let me know if I'm mistaken. I can't remember an example of a women's sports team in Night Vale, and a quick search of fan transcripts isn't turning anything up.)
Here's the list of gender-swapped characters, and my reactions to the swapping.
Cecile Gertrude Palmer
Carla the Scientist
So far, so good.
Steph Carlsberg
Cecile's unnamed brother, married to Steph Carlsberg
Johnny, Cecile's nephew (son of Cecile's brother, stepson to Steph)
This is interesting, but not problematic. Johnny could be selling cookies (or something else) for cub/boy scouts. I don't think anything in the story particularly requires these characters to be male or female.
I think "Elle" is a far prettier name than "Earl," but it feels similar when spoken, which is why I picked it. In this gender-swap version I guess Elle would have to be a girl scout leader? And it is a little striking to have a female sous chef and a female executive chef at a premier restaurant. In western culture, as soon as a job becomes a prestigious profession, it suddenly seems to be dominated by men.
Karen, radio host for Desert Bluffs
Creepy, creepy Karen.
Dan Cardinal
Terrell Flynn
Now this is interesting. Two of the show's big heroes are now guys. Does it feel less heroic for the Intern Who Lived and the adolescent resistance leader to be male? I'm thinking of Cecil's speech about Tamika, where he goes from calling her a "girl" to a "woman" to a "human being." How would that speech have felt if it was "boy" to "man" to "human being"? Is it different? Is it necessary to point out that a male is a human being, or does it seem silly, as "male" and "human" have been synonymous for so long in western culture?
The woman we all believe to be the sheriff of Night Vale
Does being a woman make the sheriff less weird or imposing? (I don't think so, actually.)
The Woman in the Tan Jacket
This reminds me of the Observers in Fringe. (The Observers really pissed me off, especially in the final season.) Like the Observers, the Man in the Tan Jacket is a strange visitor of default gender (male). When we think of a generic person, we think of a male, so making the visitor in the tan jacket female is very interesting to me. The show actually did something like this with the Woman from Italy, but of course, she hasn't become a recurring character (yet?).
Lorne Mallard, StrexCorp executive
Given Kevin and Lauren's interesting dynamic—Lauren was supposed to be Kevin's boss, but he seemed to have some sort of power over her—I'd love to see this gender swap, and see Karen really creeping Lorne out.
(Former) Mayor Patterson Winchell
Intern Maurice
Jane Peters, you know, the farmer?
I don't really have any comments on these three…swapping their genders doesn't seem to do anything to the story.
Heidi McDaniels, literal five-headed dragon
I like this, if only because Hiram is such a fun character and it would be really neat to see a female version. I'm not seeing anything particularly gendered in his story though.
The Faceless Old Man Who Secretly Lives in Your Home
Somehow this is far creepier to me than a Faceless Old Woman. But it's creepier because it feels sexual. I don't get a sexual vibe from the Faceless Old Woman. I suppose western culture has primed me to expect predatory men.
Old Man Joe and the Angels, all called Erik
You know what's funny here? I have no problem thinking of the Erikas as being male or female or genderless, but having them all named Erik makes me assume they are all male. I don't think gender-swapping Josie is a huge deal, though. ("Joseph" would be the Desert Bluffs counterpart.)
Liddy Lenore, out on the edge of town
There may be different connotations to a woman who lives out on the edge of town versus a man who lives out on the edge of town, but in general, I don't think there's anything about Larry Leroy that demands maleness. (Also, I was really pleased when I chose "Lenore.")
Morgan Wallaby, who was born as a grown woman's detached hand
Ah. It would be interesting trying to characterize Morgan's looks—in the show, Megan's manly hand-hair is mentioned, but what would you say about a woman's hand without falling into the trap so many children's videogames do—putting a bow on it or something? A woman's hand doesn't naturally have an identifier like nail polish. And you wouldn't expect a pre-pubescent boy to have manly hand-hair. In fact, a young boy's hand might not look so different from a woman's hand. So what would be the signifier? Maybe just that the hand looked older than a child's hand?
Tammy Williams, owner of the Desert Flower Bowling Alley and Arcade Fun Complex
Tilly the barber
These are fun, but ultimately I don't think they reveal any gendered stereotypes. They work pretty well swapped.
(The former) Martha Vanston
Aha. Now here is a problematic one. Marcus Vanston's big thing is going around naked. There are extraordinarily different connotations when a woman does this. It would be fun to explore.
Naaz al-Mujaheed
Michaela Sandero and her father Florent
Malique Herrera
Here's where we get the women's football team.
Big Ricki, owner of Big Ricki's Pizza
Lenny Hart, editor of the Night Vale Daily Journal
Mickey Nguyen, owner of Dark Owl Records
Sammy Sultan, president of Night Vale Community College, who happens to be a smooth, fist-sized river rock
Simon Rigadeau, a transient living in the recycling closet of the Earth Sciences building at NVCC
I'm not seeing any big issues with any of these swaps.
Rey, the voice of Night Vale's numbers station WZZZ
Would making WZZZ's voice male take away some of its "credibility" as a victim? Would he be less sympathetic to the audience, not being a "damsel in distress"? (I think WTNV's audience is more sophisticated than that, but it is an interesting thought. Would we have a subconscious aversion to hearing a male voice in that kind of distress?)
That pretty much covers the major and notable characters. There are plenty of other characters, but they're not as important to the storyline (again, yet). There are a couple of interesting things I thought of, though. Making Sylvia Wickersham into Silvio Wickersham kind of gives the character a Marcus Vanston vibe (rich person doing whatever they want). And what if we turn the "Shawns" from sales into "Shawnas"? Does that make what happened to them more stomach-turning?
Here are a few more names, just for fun:
Sullivan Thurgood, publicity director for the Night Vale Medical Board
Rhonda Singh
Former mayor Daniel DuBois
Dab, a sentient patch of haze
Dion Creighton, treasurer of the PTA and father to Joss
Emile Munton, director of the Night Vale Zoo
Francis Donaldson, the tall man with green eyes who manages the antiques mall
Leonora Burton, former host of Night Vale Community Radio
Joy Eisenberg, dinosaur expert
LaShawnda Mason, executive chef at Tourniquet (again, a gendered profession)
Marcel LeFleur, head of Night Vale's tourism board
Vincenza LeFarge, head of vigilante squad Grab 'Em and Sack 'Em (kind of a gendered profession too, eh?)
Trent Hidge, staffer during Mayor Winchell's tenure
What do you think? Does gender-swapping the characters of Welcome to Night Vale tell you anything about your conscious and subconscious thoughts and feelings? Has anyone else done anything with this idea?
(Many thanks to the Night Vale Wiki for its list of characters, and to Lia and aimlessglee for their episode transcripts, which I have imported into Evernote for reference.)
Edit:
It occurs to me belatedly that I didn't consider the Apache Tracker. Actually, I thought of him pretty early on, realized that swap would be fairly complex, and put it off for later. And then forgot.
So, the Apache Tracker. I honestly don't know enough about Native American culture to figure out whether or not "Apache Tracker" could be "properly" used for a female character. "Properly" is in quotes because of course the term "Apache Tracker" is purposefully misused for this guy. My issue is, I'm not sure if having a female Apache Tracker would add a completely different element that would change the story or the meaning of the character, in terms of what the words "Apache" and "tracker" mean.
I do think making the Apache Tracker female would add some intriguing nuance to the statement the character is making about cultural appropriation. "That white guy" is a fairly standard (dare I say it) strawman for racism, but "that white lady" has some additional connotations. Women aren't privileged in the same way men are, but white women have privilege that people of color of any gender don't. Feminism also doesn't always have a great track record when it comes to people of color. The white male Apache Tracker gives me a generic, ignorant cultural appropriation vibe. A white female Apache Tracker, though? I start to have feelings of betrayal. As someone who straddles a line between privilege and oppression, someone who knows what misogyny feels like and yet has been treated the way human beings should be treated, she should know better. I find myself far angrier at her than I am at the canon Apache Tracker, who just sort of makes me shake my head and laugh ruefully.